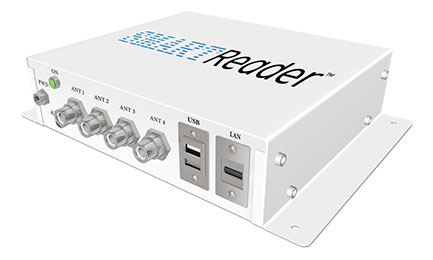 The RFID R US Reader supports up to four monostatic antennas, which covers a tag read distance that is over 80 feet with 9 dBiL antennae. It supports the tag reading speed for moving objects at 100 mph. Access and control the reader from any browser using the built-in UI. Access the reader via Ethernet or WIFI. The reader supports the latest RCI standard from the Rain Alliance. The reader also contains a database and can send alerts via text or e-mail in real-time. Users can detect fast-moving assets in doorways, create the next generation of smart cabinets or
smart stores, determine the movement of assets and people effortlessly with our built-in Zone Manager. No programming necessary.
Key Features & Benefits
True plug and play. Start reading your tags automatically using a browser and the Zone Manager software on the Smart Reader.
Zone Manager software included.
Store and access the data directly on the reader, on a server on-premise or in the cloud.
Setup and receive alert based on custom rules.
Read assets at high speeds using the Smart Reader fast track option.
Never send a wrong shipment using the Smart Reader Order Accuracy Manager.
Control the reader using the latest standard Rain Communication Interface (RCI) Rest API.
Applications
Inventory Management
Asset Tracking
Personnel Tracking
Smart Cabinets
Toll detection – Conveyor belts
Warehouse